So since I have dusted off my tarnished photoshop skillz and started playing with icon making again, I decided to transfer all my resources I made etc from my old laptop onto my new computer and I found a load of old banners that I had never posted to LJ.
Since I am hoping to add to these I thought I'd post them and let you all have a good giggle at my old style icons.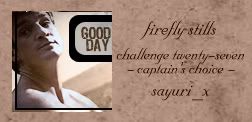 Not bad for a dabbler, eh?